Home
›
General Board
Feedback on Mounts for @Broadsword
<!–– 1941 ––>

poena_dare
<!–– closing ID=FDP or NOFDP 2001 ––>
Dear
@Broadsword
, you asked for feedback on mounts...
Friday Grab Bag - 03/30/2018
I know it sounds weird but is there any way you could make mounts vaultable? My toons have 2 or 3 mounts in pack just wasting space.

This is on our list of things to tackle! While allowing horses into vaults/house vaults is one potential solution, another one we've discussed is adding a (potentially summon-able) stablemaster NPC that will keep track of your available mounts. That would have the added benefit of your mounts not taking up any inventory (or vault) space until they're needed.

We'd love to hear your feedback on that idea or any other solutions you all might have!
My suggestion: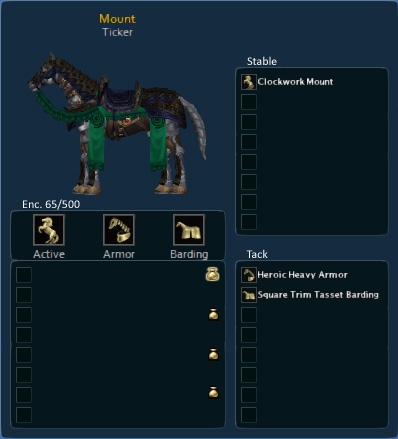 I'd like to see:
Mount encumbrance limit raised to 500.
8 inventory slots per saddlebag.
8 inventory slots for mount storage.
8 inventory slots for mount armor and barding storage.
In addition, I have
ideas
...
Crazy ideas
... Each type of mount could give you a special buff while mounted. Eg. Fire horse gives you 100% fire resistance. Sure, any combat will dismount you, but a mount's special buff could blunt the effects of a first strike against you.
Also, mounts with endo regenerating abilities would be very desirable for those long hauls.
I hadda whole list of mount special abilities in my head but putting it here would probably be overkill.
Tagged: