Home
›
General Board
How to make solo action thrive
<!–– 1941 ––>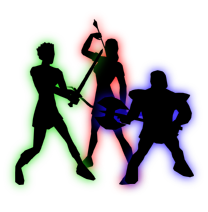 audizmann
<!–– closing ID=FDP or NOFDP 2001 ––>
I've been inactive for three years, and I only just subscribed to share some ideas about the design of solo action. Broadsword has dedicated more time to this playstyle in recent years than anyone could reasonably expect, but still the result is muddled.
First, I'd like to put into words what I think the design (of solo action) should aim to achieve:
Maximize the chance to encounter...
1) as
few
enemies as possible
2) as
frequently
as possible
3) in a
natural
way
I have tried to summarize my suggestion in a single illustration. It revolves around small repeatable quests that are designed to generate a steady flow of random traffic (in a made-up area).
Supply quest: collect 3 boxes and 3 rubble
Kill quest: kill 1 wolf and 1 bear
Buggane quest: pray to the sun and moon
1) All the best structures are condensed into one general area, and connected through quests. This way the different structures and quests compliment each other, rather than compete for the attention of players.
2) Players are given complete freedom to do quests in any order and direction. In return, players expose themselves to half of the structures per quest. This is a healthy mix between freedom and exposure. All you need to do to keep things random is to encourage players to vary between the three different quests.
3) Stealthzergs will struggle in this environment. None of the structures are essential, which means questers can be expected to constantly avoid the "worst" structure. This is an easy adjustment for questers to make. Simply take a different route. Stealthers will need to play in smaller numbers to thrive.
4) Lastly, I want to point out that this suggestion does not require everyone, or even a majority of players, to do quests. Questers are a crucial part of this environment because they take the first step and initiate action. They are the constant traffic that attracts more action, and they maintain balance and unpredictability. Even if you hate doing quests, it does not logically follow that you should dislike a quest environment. Questing is the best thing that other players can do for you.
I know this probably seems like too much effort to put into a suggestion that will never happen, but I don't mind. I can't help it. I'm happy to answer any questions you have, and I'd also like to hear what solo action looks like today in your experience.