Home
›
Albion Classes
›
Albion Melee
My S/S Pally Specs
<!–– 1941 ––>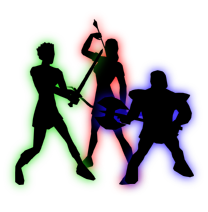 BloodOmen
<!–– closing ID=FDP or NOFDP 2001 ––>
So I was digging through old S/S footage (not going to post it because its boring) but I decided to share a few specs in case someone fancied trying pure S/S out rather than the norm 2h. Why S/S? as viable as 2handed is, it becomes repetitive very quickly and given the healthpool of players now + hots etc, S/S i just harder to kill people with.

Few i used to pingpong between

34 Thrust
42 Shield (Why slam? sure, its only 5s but its still good in most situations, you generally won't land reactionary shield styles vs heavy tanks or light tanks with high parry/evade)
27 Parry
48 Chants

-

29 Slash (although you wouldn't have issues hitting people with Amy Slash, you'll get a lot of variance at lower RR's with under 51 comp)
42 Shield (see above)
34 Parry
48 Chants

-

33 Slash (enough at RR8+)
42 Shield (see above)
40 Parry
40 Chants (40 is sufficient while being so defensive, 40 gives you instant cure disease, that's all that matters when timing your instant heal, the downside being your instant heal is slightly weaker and your AF is slightly less than 48 chants)



Out of the 3, the last one (based on the footage I have) is the one that performed the best overall) - you'll have issues vs wardens and skalds, you can't kill them (unless they play really bad) on a plus side, they can't kill you either, generally skalds will end up just running away and wardens will give up when they realise neither of you is going to die. I always ran 25% heal bonus on my paladin + a fair amount of MoHealing, pretty much all of my procs were..... big heals basically, you can have a significantly lower level IP with so much healing % as well.