Home
›
General Board
Vanzblade's Survey
<!–– 1941 ––>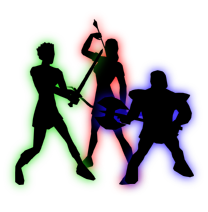 Vanzblade
<!–– closing ID=FDP or NOFDP 2001 ––>
I am creating a survey based on what changes I would like to see in the game. By no means does it mean that these changes are actually going to happen but if you don't attempt to point out areas that you think need improved upon then how is the game supposed to evolve. I am going to list my questions below and explain my thought into why I think this needs changed or improved upon. If you don't wish to read any further no harm no foul. If you wish to leave constructive criticism in the comments I would appreciate it. Maybe my ideas will stir new ones within yourself. So here it goes.
Question 1:
Do you think Supremacy Pots and purchased buffs should be removed from the game?
Everyone is so buffed and so templated now days the fights take forever. If you are not a healing/buffing class you have no business having red buffs or yellow buffs. You should still be able to get basic buffs from pots. If you want red or yellow buffs you need to have one of those classes in your group, and then those buffs need to be ranged. This area leaves open people with buff bots stashing them in areas I know but every idea will have a loophole somewhere. This will bring back the grouping of buffing classes in groups because you have to spec for it.
Question 2:
Do you think buffs from players/bots should be ranged?
See Question 1
Question 3:
Do you think Speed Warps should be removed?
Everyone has multiple speed warps. Remove these things and let just get at it already.
Question 4:
Do you think a realm timer needs installed?
Realm pride get some! Personally I think this thing needs 12 hours or more but everyone is entitled to an opinion. If you are going to jump on a bg bandwagon pick one and stick with it. No more swapping.
Question 5:
If "Yes" to a realm timer: What would be your suggested time to switch realms?
Self Explanatory
Question 6:
Do you believe the relics are important to your realm?
Me personally not really, but put your opinion in. I think these relics need a major boost so if you lose one or both it really makes you want to go back and get it. Maybe make it so if you lose one you lose a boat dock master at Beno, Crauch, or Bled so you have to boat from center map keeps and if you lose the 2nd one you have to boat from the portal town. I don't know I am spit balling here but something more needs to be penalized for not having your relics, because most people really don't care currently.
Question 7:
What is your favorite class type?
If I have killed you before you know mine

Question 8:
Would you like to see Detect Stealth as a trainable ability or Champion ability/Realm Rank?
This one I am is going to
@#$%
people off but I believe if you want to find stealth classes you should have spec for it or have a stealth class in your group. My personal opinion you should have Hunters, Rangers, and Scouts all on the same trainable specializations of all 3 realms. The Damage output the same on all 3 realms. You want a pet with a ranger you are going to have to spec for it. You want shield slam on a hunter you are going to have to spec for it. Give these toons the ability to train for pets, shields, or whatever. Give these classes the Stealth Lore buff to cast within the group. Maybe give it 1/2 the distance of a PNode. This way visible groups get their stealth detection and someone who can slam, pet, shoot, melee within that group dynamic. If you are solo you can visit the stealth trainer in the starter towns and burn your champ points or realm points for stealth lore at 1/4 of what would be casted from Hunter, Ranger, or Scout. Completely remove Stealth Lore items. This way you have to spec for it. Stealth classes picked stealth classes for a reason.
Question 9:
Are realm points to plentiful now?
Personally I think there are too many realm points distributed out now. People gaining realm ranks quickly and catching people who have spent years getting to the highest level.
Question 10:
Would you be interested in seeing a Mordred Zone or RvR Zone in areas other than NF?
I would like to see some of the area turn into a Modred Zone or RvR zone other than NF. Say you have beef with a realm mate and want to throw down. You can port into an area get after it. The challenge thing works but doesn't work. You get healed all these challenges end. I would like to have an area where it is no holds barred kill realm mates and kill other realms in a solo area.
Well those are my questions I have more but I think 10 is a good start. Create some surveys for your own ideas maybe we can get the ball rolling on someones ideas and bring some twists to the game.
Do you think Supremacy Pots and purchased buffs should be removed from the game?

49 votes

Yes

10.20%

No

89.80%

Do you think buffs from players/bots should be ranged?

49 votes

Yes

18.37%

No

81.63%

Do you think speed warps should be removed?

49 votes

Yes

48.98%

No

51.02%

Do you think a realm timer needs to be installed?

49 votes

Yes

81.63%

No

18.37%

If Yes was your answer for a realm timer: What would be your suggested time to switch realms?

49 votes

12 Hours

16.33%

10 Hours

&nbsp

0.00%

8 Hours

&nbsp

0.00%

6 Hours

&nbsp

6.12%

4 Hours

&nbsp

6.12%

2 Hours

71.43%

Do you believe the relics are important to your realm?

49 votes

Yes

59.18%

No

40.82%

What class type is your favorite?

49 votes

Stealth

16.33%

Tank

&nbsp

8.16%

Hybrid

22.45%

Healing

18.37%

Casting

34.69%

Would you like to see Detect Stealth as a trainable Champion ability?

49 votes

Yes

44.90%

No

55.10%

Are realm points to plentiful now?

49 votes

Yes

61.22%

No

38.78%

Would you be interested in seeing a Mordred Zone or RvR Zone in areas other than NF?

49 votes

Yes

44.90%

No

55.10%
Post edited by Vanzblade on